The other day I decided to try making my bone broth in my pressure cooker for the first time. I had been on the fence about this method for some time. I had too much on my plate to research it, so I kept on using my crock pot. Then the crock croaked!!! I was forced to do my research. I read and read and found several trusted sources say that you could, in fact, get the same healthy bone broth benefits from 30 minutes in a pressure cooker as you do in 24-48 hours in a crock pot. They also claimed it was better because it would consistently jell.
I was a skeptic still and didn't have the money to buy a new crock pot AND a pressure cooker. Then I found the Instant Pot. It is a pressure cooker, crock pot, rice cooker, and many more all in one!! I've had it now for several months and still had the skepticism. Being a creature of habit I have been using the Instant Pots crock pot feature to make broth. Lack of planning and time led me to try pressure cooking my broth for the first time.
I used the same recipe from Nourishing Traditions.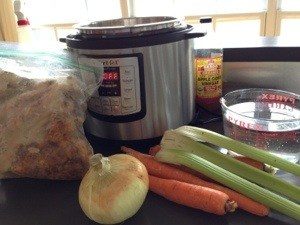 1 whole pastured chicken or 2-3 pounds chicken bones with or without bits of meat, including feet if you have them
4 quarts cold water (I could only fit 2)
2 T apple cider vinegar
1 large onion, coarsely chopped
2 carrots coarsely chopped
3 celery sticks, coarsely chopped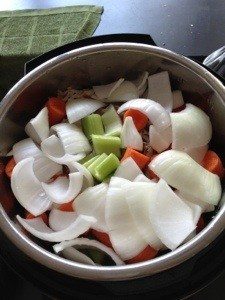 My chicken carcass came straight out of the freezer. (We throw these plus any left over bones from our plates in a big ziplock bag every time I make a chicken.)
I stuck it all in the pot, put the lid on and set it to 40 minutes of pressure cooking. Thirty or so minutes is the recommend time. I bumped it up to 40 since my bones were frozen and I was still skeptical.
Those 40 minutes were over before I knew it. I let it cool down naturally instead of releasing the pressure, mainly because I was busy. When I opened it I was still skeptical. It was a lot lighter than my broth normally is. I thought "this must be a dud, but we'll eat it anyway".
I strained it, put it in a bowl with a lid and stuck it in the fridge.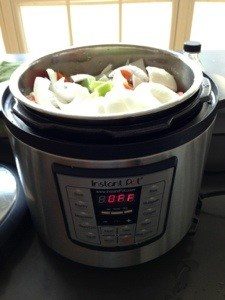 A few days later I reluctantly pulled it out, thinking we would be consuming an inferior broth than normal. Then I pulled the lid off and too my surprise I saw what looked like a bowl of jello!!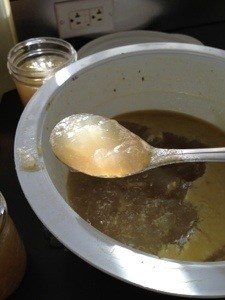 Since I am feeding my baby bone broth I needed to separate this into several jars for storing. I literally had to spoon it into each jar.  Six jars in all, twelve cups worth of broth.  Not bad for 10 minutes of prep and 40 minutes of cooking!!
It has actually been easier to feed him. I take one of the mason jars out of the fridge 30 minutes or so before he eats, put his portion in a little bowl and feed it to him around room temperature. It's still jelled so it stays on the spoon and he loves it!! It all ends up in his mouth instead of half on his bib and clothes.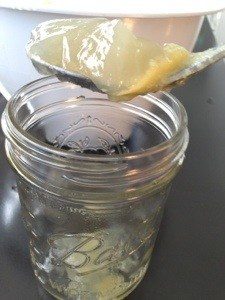 Another bonus to pressure cooking instead of the crock pot is that you don't need to do the last step of parsley to pullthe minerals out of the bones. I notoriously forget to buy parsley anyways and the one in my garden doesn't produce enough for this.
So I highly recommend the pressure cooker for bone broth. My husband appreciates that our house doesn't smell for days on end. I don't mind the smell but we have all commented that you have some weird food dreams when bone broth is simmering over night.
SaveSave