OK people, if you have a Berkey water filter you'll know what I am talking about (if you don't know about Berkey's read my post All About Berkey Water Filters here) when I say it is such a drag when you go to get some water and it dribbles out.  You tilt it just to get that last bit out.
However, being out of water isn't the biggest part of the drag.  It's the fact that you NOW have to REFILL the Berkey!!!
UGH!!!!!
Cut to an image of me or one of the kids walking back and forth from the sink to the Berkey with a pitcher full of water.  If you have the Big Berkey or Travel Berkey this isn't such a daunting task, but think about that Crown Berkey.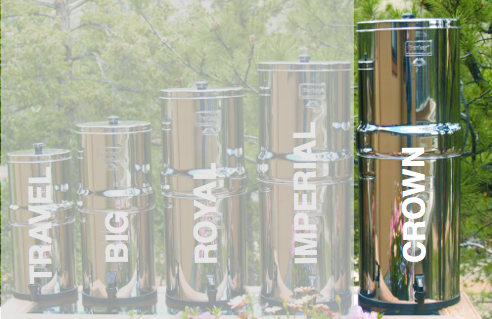 A whopping SIX GALLONS!!!  Who even has a pitcher that is a gallon.  Most are maybe 64 ounces. So we are talking about going back and forth 12 times with that pitcher.  And who is agile enough to carry a 64 ounce pitcher all the way full without spilling it?  NOT ME!!  Nor my kids.  🙂  So we do it an extra time for all the water we spilled and couldn't fill to the top.
Then there is the clean up.  Yep, mopping up all of that spilled water, which we use precious towels to do.  Towels that are then needed to dry hands or dishes on later.
"Mom there are no more towels in the drawer."  Then we are off to do another load of laundry.  All because of this Berkey.
It does make DELICIOUS water though!!!  This is why we go through all of this….for the delicious water and the knowledge that we are not putting toxic chemicals and pathogens in ours and our children's bodies.
So after owning a Berkey for many years now and trying out several hacks:
•the dreaded pitcher
•the dreaded larger pitcher
•filling when emptey
•trying to remember to fill a few pitchers throughout the day
•running a hose from the  hose faucet in the garage to the Berkey (without a sprayer handle) making sure someone was near by to turn it off before it overflowed or trying to kink the hose so no water would come out as you run back to the faucet to turn it off
•the hose thing with a sprayer, said sprayer that always leaked and sprayed all over the breakfast nook.
•making sure you kept a tall chair near by so children could do any of the above
•moving to new house with no hose hook up near by and back to the pitcher thing!!
I decided to get creative.
Basically I ran an ice maker hose from a nearby water heater that already had a T valve on it.  Then I hacked my way through some faucets with shut off valves.  After many trips to Lowe's then finally Home Depot, as the plumbing department at Lowe's is subpar, I finally got all the required parts (of which I made up as I went along).  I probably couldn't tell you what all they are, so hopefully you can just see them in the video if you want to try to do this yourself.   If you get really stuck and need more details comment below and I will try to figure out what they all are!!
This is yet another example of Swell Living!!!