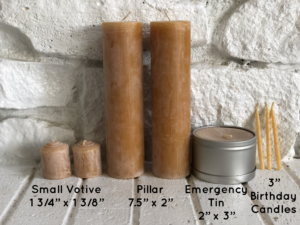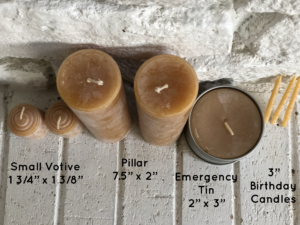 I'm preparing to get all my beeswax candles for the year in time to have them blessed on Candlemas on February 2nd.  I'm so excited to be able to offer this group buy for all of you.
Even if you are not Catholic and don't plan to get your candles blessed, 100% beeswax candles are the only candles you should be using in your home for the health of yourself and your family!!  READ BELOW for more info on this.
GROUP BUY DETAILS
CLOSES 1/17/2018
If you have PayPal PLEASE pay when you create your sign up (select Pay & Sign Up)
If you don't have PayPal you may pay me by cash/check
Checks made payable to:

Katie Guy 2104 Stratford Park Dr. Fort Worth, TX 76103

payments MUST be received BY PayPal 1/17/2018 or let me know it's in the mail by 1/17!!
Please enter a # I can text about pick up times/locations
Click on the sign up link below to see ALL the details!
REASONS TO ONLY USE 100% BEESWAX CANDLES!!
Research conducted by the EPA shows that candles release the dirtiest soot, sometimes containing particles of zinc, tin, and lead. Andrew Shedd, a pediatrician who specializes in Environmental Toxicology, has stated that it takes only 1 hour of burning a candle to produce the same effects as smoking a single cigarette and that when compared to a cigarette a candle is more dangerous because it doesn't have a filter on it to remove the hundreds of millions of micro particles.  He says also that soot particles penetrate the deepest parts of the lung and could cause respiratory illness.  If you must have candles in your home only use ones that are made from  100%pure beeswax.  Soy candles are dangerous as soy is a known endocrine disruptor.
I am offering many different kinds and sizes of candles on this group buy.  If you have a specific kind/size you just really need/want and it is not listed just let me know, I will check to see if it is available.
Merry Christmas!!
Katie Guy
CLICK BELOW TO SIGN UP